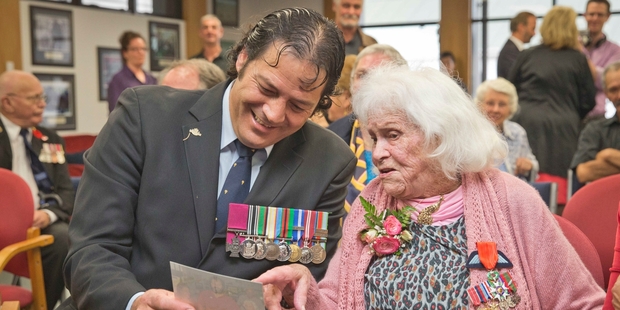 You know how wars and stuff are all about the men and you could be forgiven for thinking that women did absolutely nothing? Meet Pippa Doyle. Yesterday, the 93 year old rest home dweller was awarded France's highest honour, the Legion of Honour. (She already has an MBE and a Croix de Guerre.)
The French Ambassador, Laurent Contini, presented Mrs Doyle with the Legion of Honour medal, which now sits alongside several other awards which grateful governments have given her. But true to form the modest heroine, who lives quietly by herself yet still manages to rustle up a cooked breakfast every day, was saying nothing publicly beyond remarking that it was a "privilege and honour" to receive the medal.

Mr Contini told the Herald the occasion was unusual. In his experience it had been servicemen who had been decorated with the medal. It was a rare pleasure to bestow the honour on a woman, who had displayed bravery and humility.

He said Mrs Doyle - who parachuted into northwest France in May 1944 - showed great courage in the face of danger and death threats from Nazi soldiers.

"Your bravery is inspiring," Mr Contini told Mrs Doyle.

A fluent French-speaker, Mrs Doyle was just 23 when she dropped at night into France.

Then Phyllis Latour, she had been through an intensive and at times gruelling Special Operations Executive (SOE) training course to prepare for the clandestine life of an agent. She learned surveillance, sabotage - and unarmed combat.

On the ground, she worked with the French resistance and used carefully hidden radio sets to pass valuable information about German troop deployments back to London.

For her cover story she claimed to be a young art student gaily cycling around the countryside, a ruse which got her out of the tightest spots.